Pet Friendly Coverage In Simple Human Terms
Pet insurance can be confusing, but we're here to explain it in simple human terms. Here's what to expect and three easy steps you can take today to help protect your fur kid for life.
It's easy, just fill out your pet's information and your own to get your quick insurance quote started.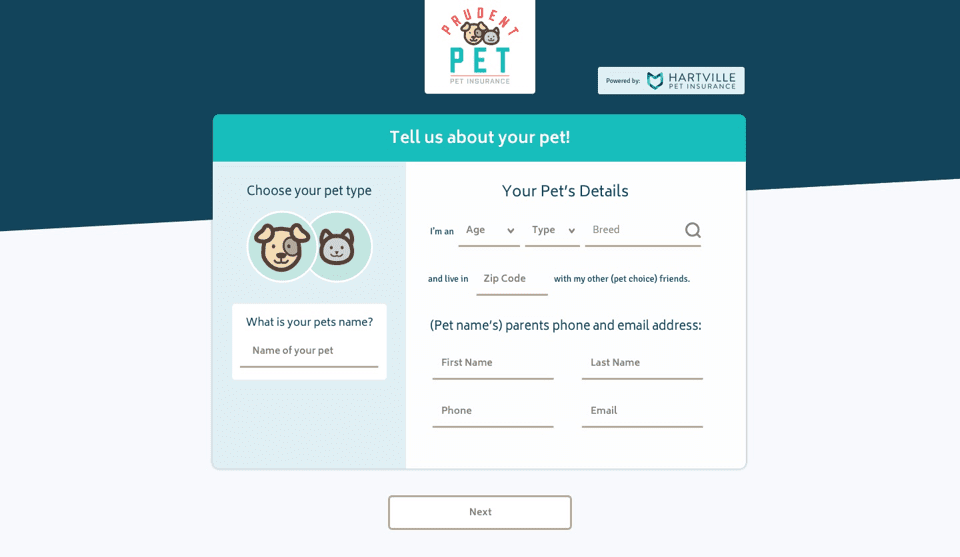 Step #2 Choose your coverage
During the next step, select the kind of coverage your pet needs. Need a breakdown on what the terms mean? See below.
Policy limit: This is the total amount you can be reimbursed over a 12-month policy period. It resets when a new policy period begins each year. We let you select your policy limit and suggest you go with one that is the highest amount you think you might need so you have the right amount of cushion. Does your pet get into lots of trouble? You might want to go with a higher policy limit. If your best furry friend is pretty chill, a lower policy limit might work better for you
Reimbursement: This is the percentage of covered costs you'll get back after you meet your deductible. We offer several different reimbursement options. Choose a lower amount for a lower monthly payment or go with a higher amount if you want to get more cash back when you file claims.
Deductible: This is the amount you will pay out-of-pocket before you can start getting reimbursed. We have several annual deductible options to choose from. Your monthly payment will be lower if you select a higher deductible. Or you can choose a lower deductible if you want the ability to get more money back
Step #3 Select your plan!
After you've selected your coverage, pick between two plans. Choose Accident and Illness or Accident-Only. On this page you can view your monthly payment, customize your coverage, or even add a pet. It's that simple!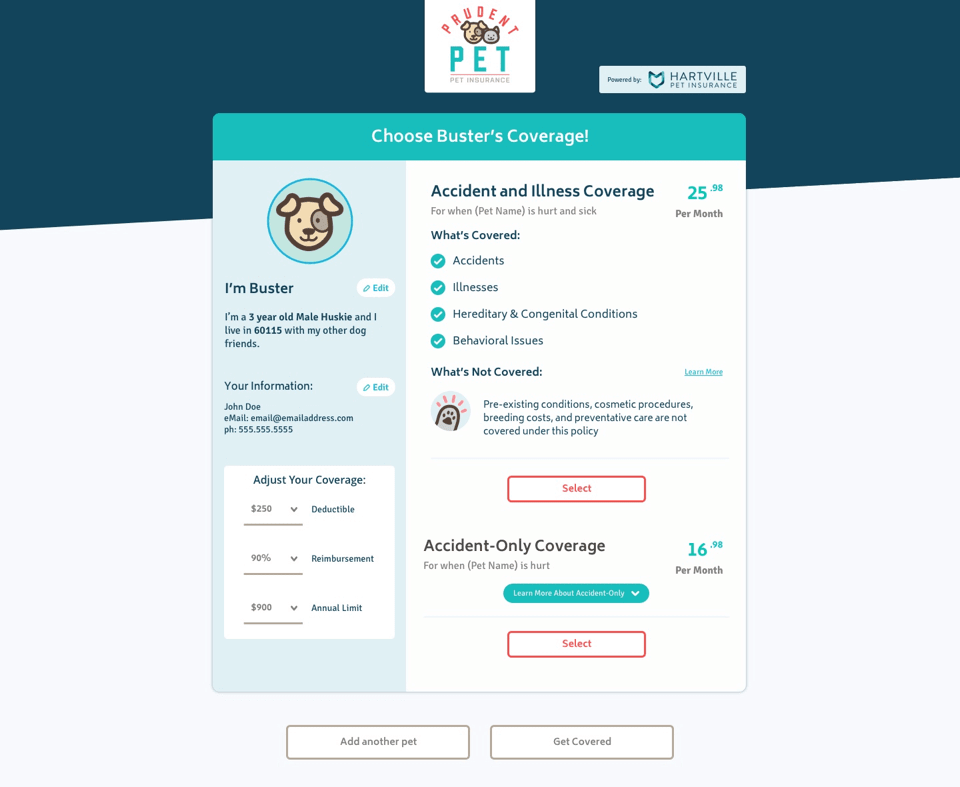 Monthly payment: This is the amount of money you'll pay each month for your pet's insurance. This is sometimes called a monthly premium in the insurance world. This amount is based on several factors like your zip code, your pet's breed and age, and the type of coverage options you select for your pet.
Adjust your coverage: Adjusting your coverage will change your monthly payment. Is your monthly payment higher than you'd like? You can play around with different options and customize your policy to meet your pet's needs and your budget. You can also select accident-only coverage as an option!
Add a pet: Only have one pet? Then you're good to go! Just click the "Get covered" button. If you have several pets that you want to insure, click the "add another pet" button. You'll get a discount for adding more of your pets!