Dogs are revered as man's best friend due to their loyalty and unconditional love for their owners. Service dogs go above and beyond normal doggo duties by assisting people with disabilities. At Prudent Pet, we want to celebrate these special pets. That's why we will be celebrating International Assistance Dog Week.
What is International Assistance Dog Week?
International Assistance Dog Week recognizes service dogs with exceptional skills and the difference they make in peoples' lives with disabilities.
Assistance dogs considerably change the lives of their human partners by mitigating their disability by being their best friend, serving as their companion, and helping to aide their owner.
The holiday week also honors the trainers that make these pups so great at their jobs. Trainers put in a lot of time and effort, so it's important to praise their hard work.
The fun-filled week also allows us to recognize and single out heroic deeds performed by these hardworking assistance dogs.
Most importantly, it brings awareness to animals in need. The main goal is to encourage people to help underprivileged animals.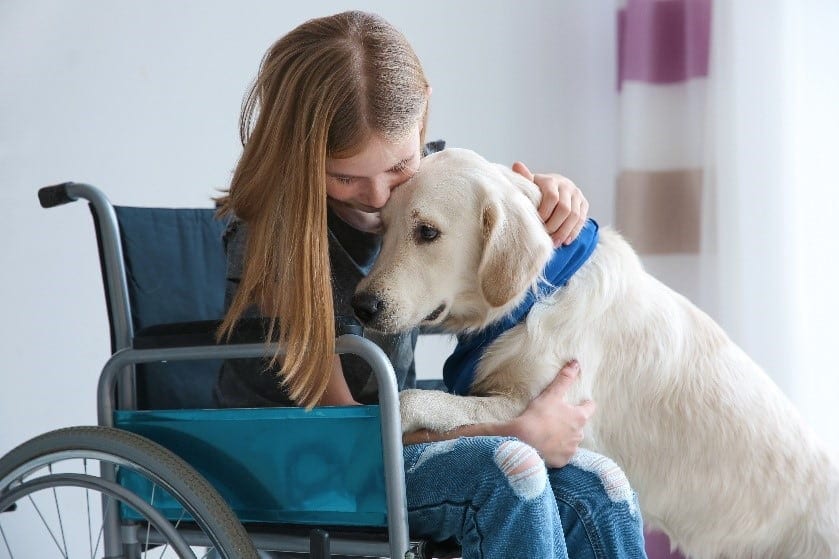 When is International Assistance Dog Week in 2019?
International Assistance Dog Week always begins the first Sunday in August. This year, this celebratory week falls through the dates August 4th-10th. Make sure to mark your calendars to help raise awareness!
History of International Assistance Dog Week
This holiday week was created to recognize the hard-working assistance dogs helping individuals with disabilities. The week was created by Marcie Davis, a person with paraplegia herself, in 2010.
In the 1700s, dogs were starting to be utilized as assistance dogs in wartime. They were tasked in assisting wounded soldiers in Europe.
In 1942, an organization called Guide Dogs for the Blind began in California. This association was responsible for creating relationships between the blind community and helpful pups.
In 1990, the Americans with Disabilities Act allowed service dogs to be guide dogs, signal dogs, or any other type of assistance to a disabled individual.
The development of assistance dogs throughout the years has led our society to respect and admire these fantastic doggies. Finally, we have a week dedicated to them!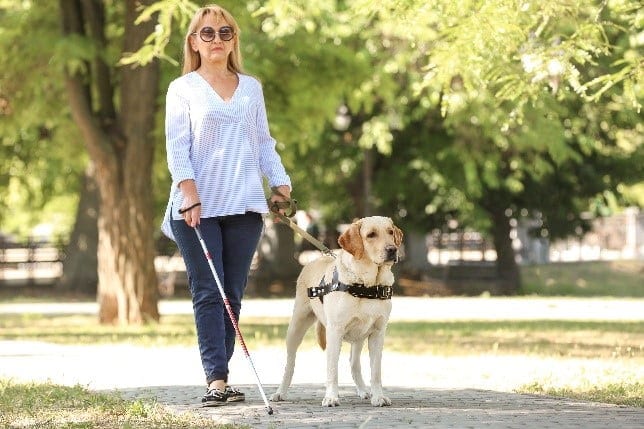 Service Dogs: Dogs that have been trained to perform tasks for those with disabilities. These dogs can also be specifically trained by their owners to assist them with their desires and needs.
Emotional Support Dogs: Doggies that provide comfort in forms of affection and companionship for those that suffer from various mental and emotional conditions.
Therapy Dogs: Pups that bring comfort and joy to those who have been affected by illness or even natural disasters. Their presence provides a therapeutic effect on individuals.
How to celebrate International Assistance Dog Week
Participate in local events: Do some research and see what type of events are happening in your community. Attend one of these events and celebrate the joy these hard-working doggos bring to those in need!
Volunteer: Celebrate by helping animals in need. Lend a hand at your local animal shelter, donate time or money, or even adopt a pet in need of a loving home!
Raise awareness: Inform your peers of how these specially trained animals are aiding so many people in our communities. Post on social media, create discussions and honor the pups and trainers alike.
Host your own event: If there is no formal celebration happening near you, take the initiative and host your own! Make it a fun project with all the proceeds going to animal welfare.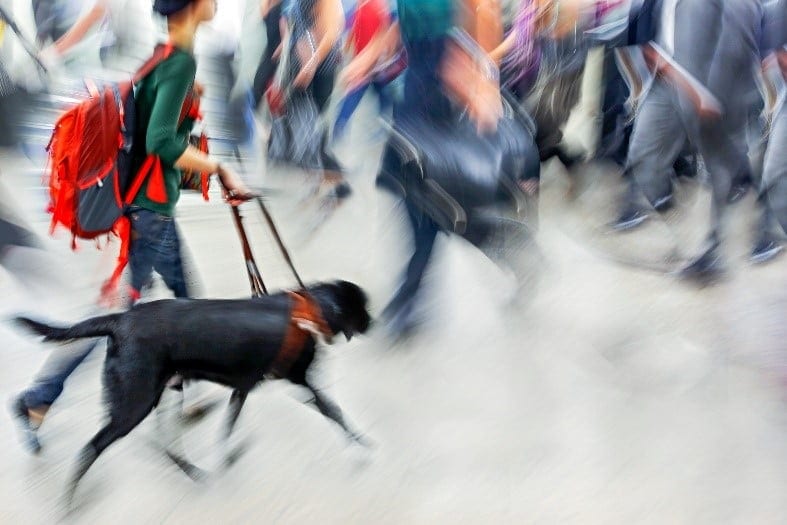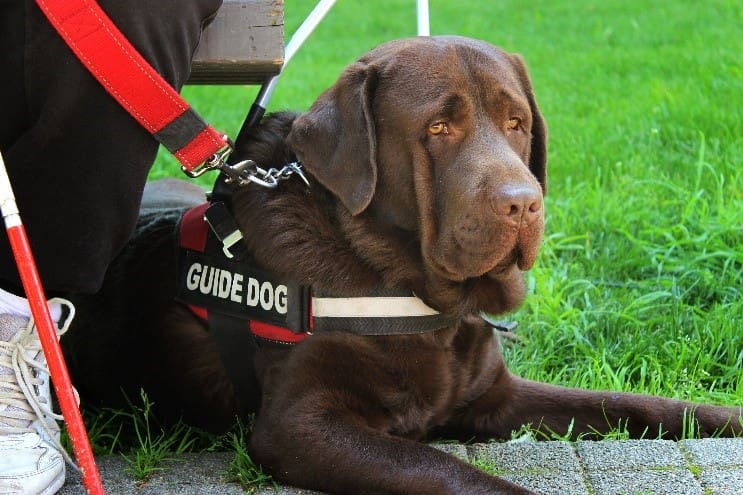 Many people are uncertain about how to treat a service dog. Is it okay to pet them – or should you just ignore them as not to distract them from their owner? Below are a few things to keep in mind when interacting with an assistance dog.
Any time a service dog is wearing their harness or vest, do not feed, touch, or distract the dog because they are currently working.
Don't treat a service dog as a pet; treat them as a working dog with great respect.
Always consult with the owner if you wish to pet the dog before approaching the pup at all.
Respect the owner's requests! If they don't want you interacting with their companion animal, then do as they say.
Never give these doggos commands, only the owner should.
Fun Facts about Assistance Animals
Here are some fun facts you can share with your friends to promote International Assistance Dog Week:
Service dogs can be any color, size, or breed.
They can accompany handlers in all public places.
Mini horses can also serve as official service animals.
Assistance pups are trained for their specific disability they will help.
A golden retriever named Kirsch received a master's degree in Mental Health Counseling after he attended all the classes with his disabled owner.
A German Shephard seeing eye dog, Orient, helped his owner hike the Appalachian Trail, which is 2,100 miles long.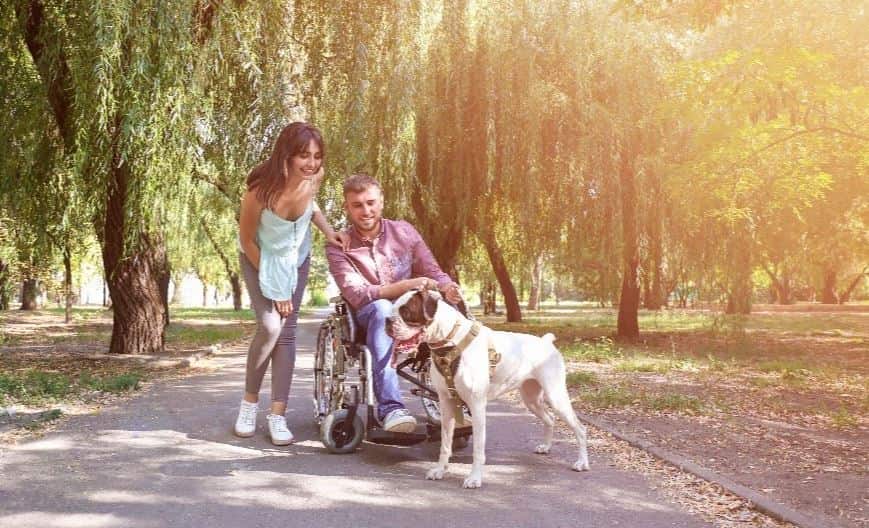 Dogs are amazing creatures, and assistance pups are even more incredible. They help so many different individuals throughout the world and allow people with disabilities to live a more normal and comfortable life. Make sure to celebrate International Assistance Dog Week this year as well as help promote shelter and rescue animals! Help your community by bringing awareness to dogs which can change an individual's life.