The holiday season is a busy time and among all the human chaos, you're probably searching for the perfect holiday gifts for your pets. Even though our dogs and cats are spoiled year-round, you can still splurge for something special during the holidays!
If you're struggling to find Christmas gifts for pets in addition to your other commitments, we can help! Your furry loved ones deserve the best presents this year, whether it's something store-bought or personalized Christmas and holiday gifts for your pets. After all, it's the season of giving!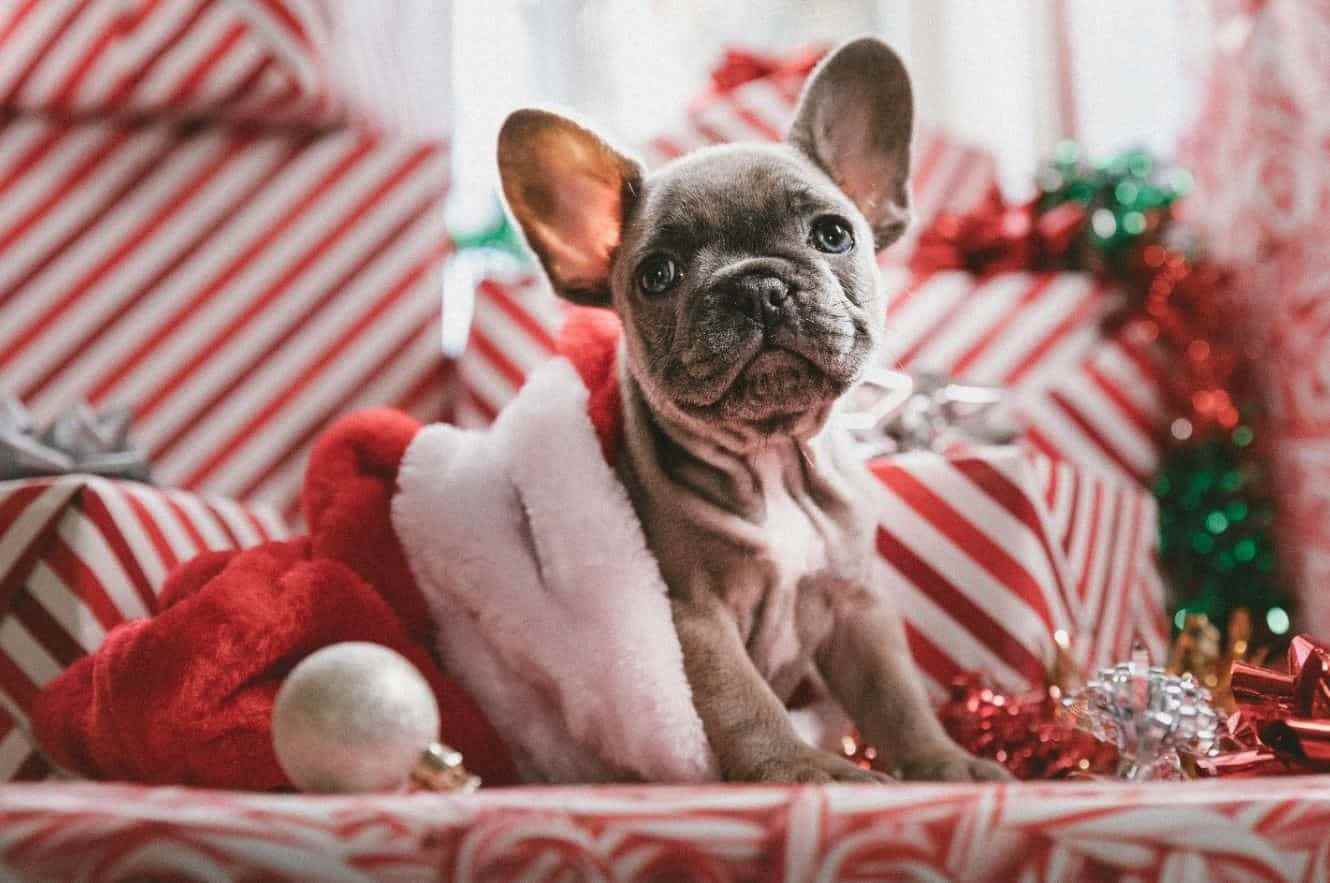 With so many toys and treats on the market, how could anyone possibly find the best holiday gifts for dogs? To help check off your shopping list a little faster, we compiled some of our favorite gifts for dogs:
1. TruDog Oven Dried Braided Bully Stick
If you have a tough pup that chews to no end, a TruDog Oven Dried Braided Bully Stick will stand the test of time (and teeth). These TruDog treats have no artificial ingredients so you can feel good about throwing your dog these bones. These tasty treats are created by braiding three bully sticks together and oven baking them in a casing to give it more flavor and make it last longer. And the best part is, bully sticks are a good source of protein, are low on fat, and are great for dogs of any size.
2. KONG Tire Extreme Dog Toy
It can seem nearly impossible to find good Christmas gifts for dogs that are particularly destructive. Luckily our friends at KONG have the perfect present. The KONG Tire Extreme Dog Toy is super durable for pups that love chewing and tend to go through toys quickly. What's great about this toy is that it's made to rebound after it's compressed, and even bounces for the ultimate game of fetch.
3. Meigar Interactive Automatic Ball Launcher
Let's face it: sometimes dogs are way more energetic than their humans. If you're finding it hard to make time to play fetch with your pup every day, the Meigar Interactive Automatic Ball Launcher was made for you. This ball launcher is at the top of our list of Christmas presents for dogs with a lot of energy. So, if your dog needs a playmate alternative on the days you're feeling drained, try out the Meigar Automatic Ball Launcher.
4. West Paw Hurley Dog Bone
West Paw's website makes one thing clear when describing the Hurley Dog Bone: it's built for tough chewers. This dog bone isn't just for chewers, it is also great for pups that love playing fetch. What makes it unique is the fact that it's bouncy and floatable for dogs that enjoy getting in the water. The assortment of bright colors makes it easy to spot indoors and outdoors, too.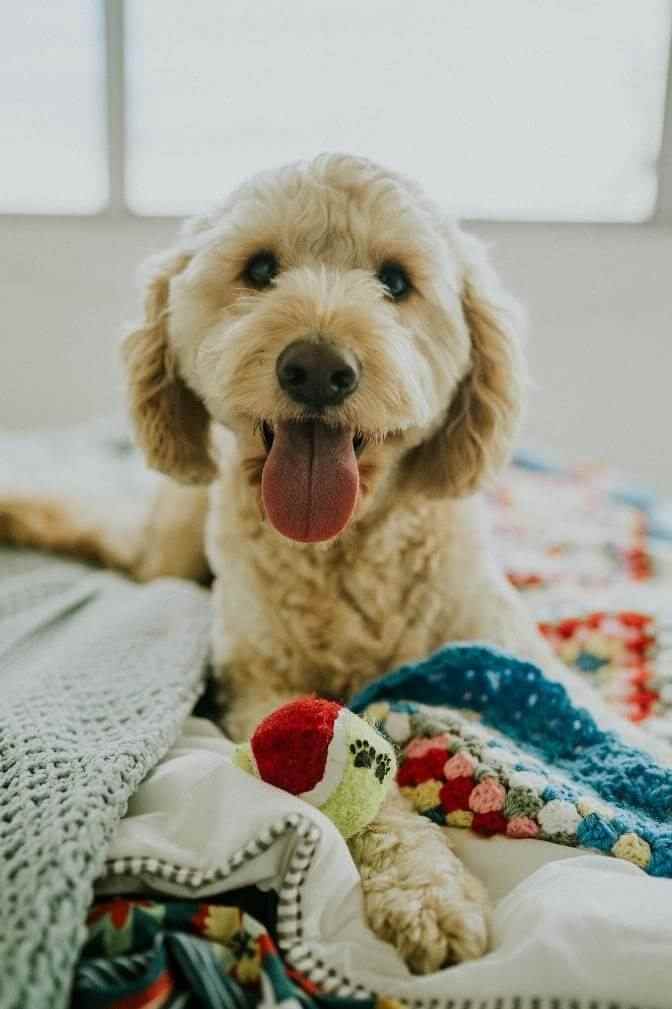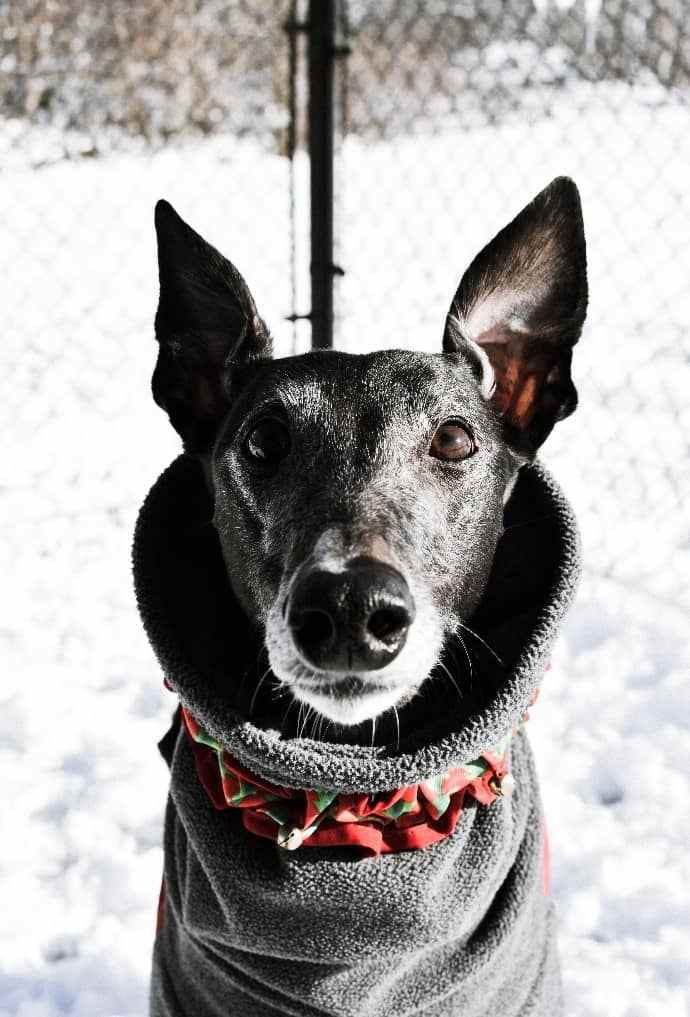 1. Outward Hound Feeder Slo-Bowl
If your dog races through meals, an Outward Hound Feeder Slo-Bowl might be a good option. The various puzzles force your pup to slow down instead of gobbling their food up in one bite. Outward Hound has different bowl shapes and sizes depending on your dog's size.
2. Majestic Pet Chevron Sherpa Bagel Dog Bed
Comfort is important for the king or queen of the household. If your dog takes up too much of your bed (as they tend to do!) it might be time to get them their own. The Majestic Pet Chevron Sherpa Dog Bed are comfortable for your pup and will match your own decor, too.
3. Chewy ADIDOG Dog Tracksuit
Does your dog like getting dressed up? Let us rephrase that: Do YOU like dressing your dog up? When it's cold and you want to bundle up your pup, Chewy has you covered. From knit sweaters to a full-on ADIDOG Tracksuit, you can bet your pup will make it through the winter in style.
4. Subscription Box
A subscription box is a gift that keeps on giving all year round, with special treats and toys delivered to your door each month. There are a lot of dog subscription boxes out there, and they all offer something a little different.
These are a few of our favorites:
If you're looking for customizable gifts for dogs, we have an easy toy you can create for your furry friend. Here's how to make a DIY Dog Donut Toy:
What You'll Need:
2 Pairs of Themed Socks
2 Pairs of Thick Socks
Needle and Thread
Paper for Gift Tags
Ribbon
Scissors
The process is simple: just cut the tip off each sock and stuff the thick ones inside the themed socks. Roll it like a sock bun, then quickly stitch around the hem of the sock. Garnish it with ribbons and gift tags and voila! your dog's gift is complete.
You can find the full tutorial for the DIY Donut Toy on Pretty Fluffy.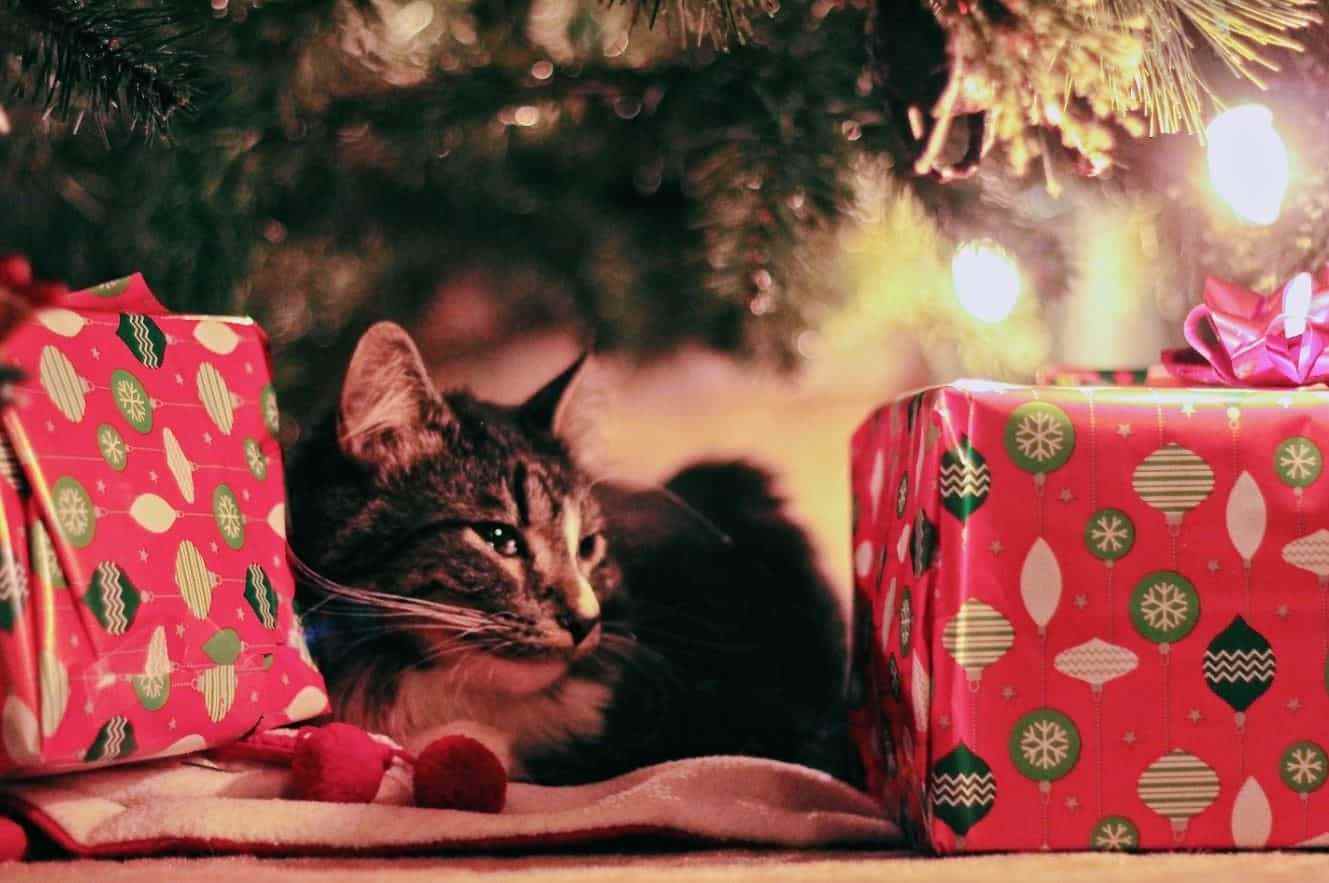 What do you buy for the cat that has everything? If you struggle with finding the perfect holiday or Christmas gifts for cats, have no fear. Here are some of our suggestions:
1. K&H Pet Products Kitty Crinkle Sack
Crinkle sacks are the ideal gift for the cats that always seem to find themselves in your grocery bags. This crinkle sack produces the paper bag noise cats adore, without the worry of them getting tangled up in actual bags. The Kitty Crinkle Sack from K&H Pet Products has a plush lining and easy entry for the best playtime experience possible. And for humans, it's easy to take care of because it's washable!
 2. Merchsource Interactive Cat Laser Toy
This holiday season give your cat the gift of entertainment – even when you're not around. The Merchsource Interactive Cat Laser Toy produces random light patterns to ensure your kitty will never get bored. This model also has an adjustable mirror for different angles, and a timer to make it automatically shut off. Plus, you can take out the laser and use it by hand.
 3. UncommonGoods DJ Cat Scratching Pad
This is a gift for the cool cat in your life. With the DJ Cat Scratching Pad, your kitty will be scratching records, not the furniture. If you don't have a DJ cat at home, Uncommon Goods has other incredible scratch pad options on their site.
4.Wellness Kittles Cat Treats
Your cat deserves the best, which is why Wellness' Kittles Cat Treats made the list. These natural treats are low in calories and come in six different flavors. They're so delicious, your cat won't even notice that Kittles also help clean their teeth!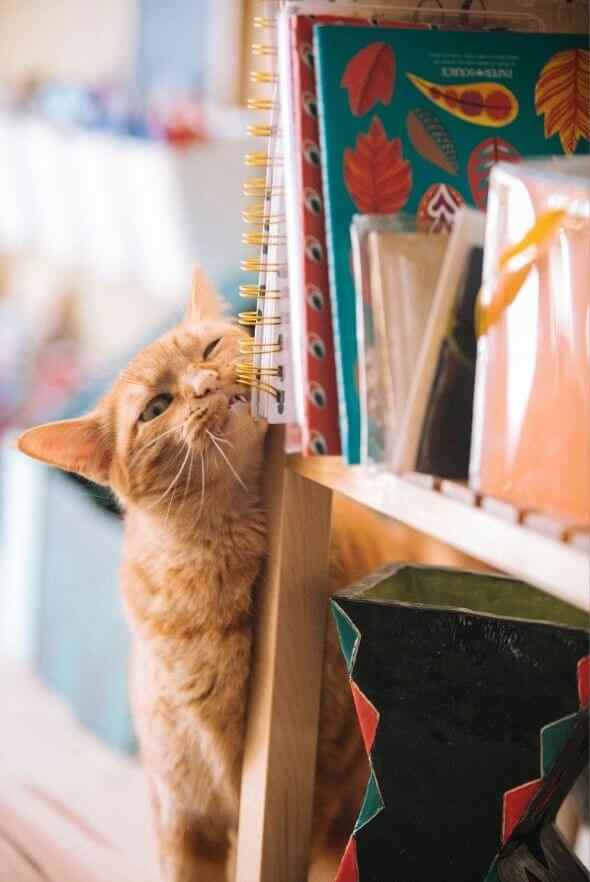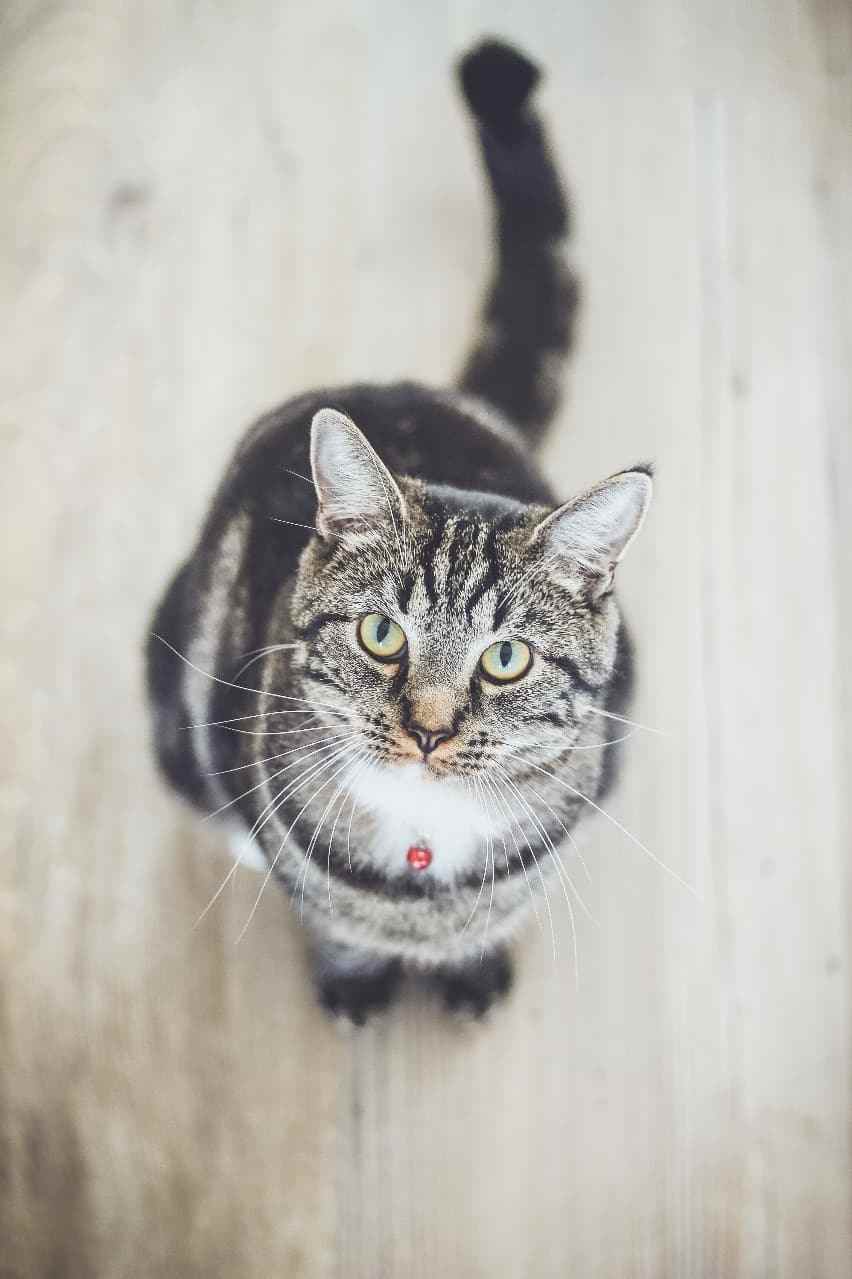 1. Litter-Robot III Open Air Self-Cleaning Litter Box
There are many things to love about being a cat owner but changing the litter box certainly isn't one of them! The Litter-Robot III Self-Cleaning Litter Box is especially great for people with more than one cat because it self-cleans after each use, helping to reduce odor. You might think this is a gift for yourself (it kind of is!) but trust us, your cat will thank you for the fresh litter.
 2. Pet Magasin Cat Bed Cave
Cats like to cozy up, there's no doubt about it. And with the Pet Magasin Cat Bed Cave, your kitty can snuggle up at their leisure. This luxurious bed can be rolled and flattened out in four different ways, so your cat can lounge around in their favorite positions.
3. PetSafe 5-Meal Automatic Pet Feeder
If you have long days away from home, you might feel guilty about throwing off your cat's feeding schedule. Luckily you don't have to worry, because the PetSafe 5-Meal Automatic Pet Feeder will do the feeding for you. Your cat will also be happy about sticking to food when they expect it, too!
4. Sweaters on Etsy
Keep your cat warm during the winter season with some great clothing. On Etsy, you'll find custom fabrics and styles that will please even the pickiest cats. There's something special and personalized for every cat and cat lover on Etsy!
It's no secret that cats can have high expectations. So, if you're looking for personalized pet gifts for your kitty, we have an awesome project for DIY Pom Pom Cat Toys:
What You'll Need:
Cotton or wool string
Scissors
Begin by wrapping the string around your hand about 50 times, then tie around the center of it with a length of the string. Once it's tied, cut through the loops and you'll have created the ball. Keep repeating this to make more pom poms.
You can find the full tutorial for DIY Pom Poms on POPSUGAR.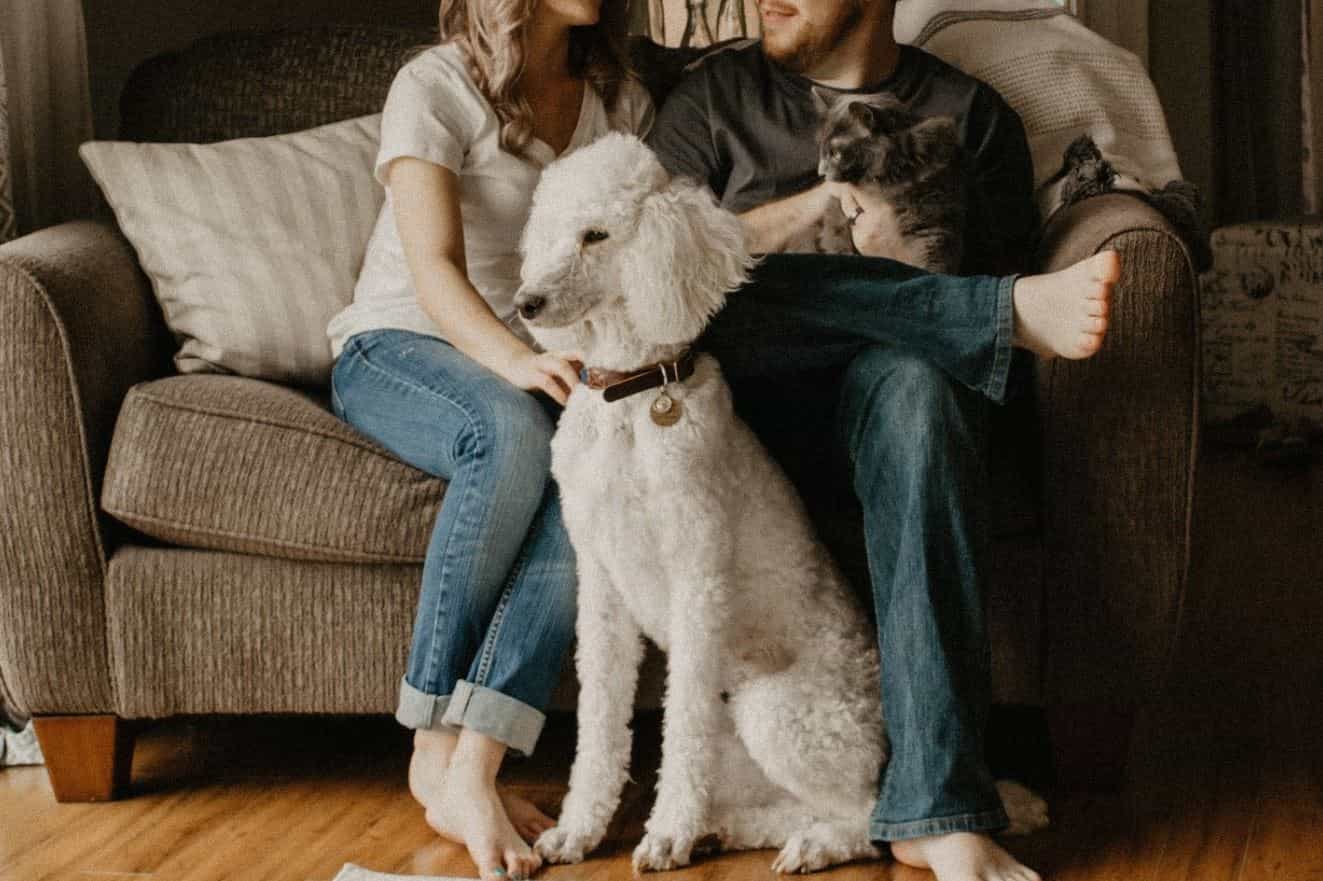 Give the Gift of Good Health
The best gift you can give your dog or cat this holiday season is the gift of love and good health. Prudent Pet offers affordable coverage for the furry members of your family that is easy to use, easy to buy, and easy to understand.
With Prudent Pet, you can have coverage options for illness, accidents, and optional preventive care for a little more cost. Family comes first, so give the gift that keeps on giving. Get your free quote on Prudent Pet today!