Just like our feline counterparts, humans fancy convenience above all else. That's why many brands take the liberty to package our favorite things and deliver them to our door.
There seems to be a subscription box for everything (from makeup and skincare to liquor and beef jerky) and there's no shortage of these boxes in the pet industry, with major brands like BarkBox.
Good news for feline lovers: you can spoil your kitty with their own monthly cat subscription box!
Our pals at KitNipBox sent us a Meowlloween-themed box just in time for the spooky season. Keep scrolling to see what our purring pets think of KitNipBox and to receive 15% off your first order!
What Comes in a KitNipBox?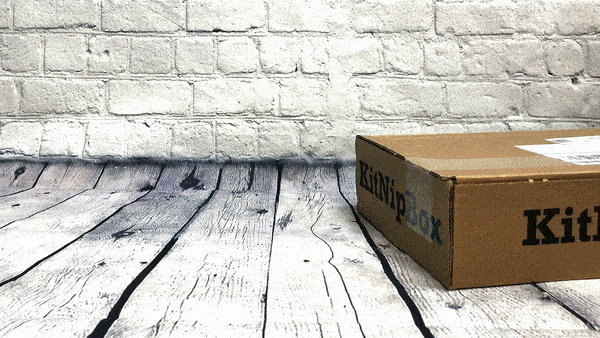 KitNipBox states they only include high-quality toys, all-natural treats, and other healthy products in every box. And as a crazy cat mom, it makes me feel good knowing a company is working hard to provide healthy options for my pets.
The KitNipBox I received was full of cat toys and one treat option, which seems to be the norm with monthly subscription boxes. Most of the toys were filled with catnip but past boxes seem to also contain crinkle toys and bells.
It seems that some boxes don't include treats, but no need to worry: KitNipBox will always replace treat-less boxes with another goody.
Our Meowlloween box contained:
Paws 'N Purrs Bats for Cats Wand
All for Paws Catnip Scarecrow
'R Squad Ghostly Boos Crinkle Kicker
LEAP All Nip Halloween Treat Mouse
Safemade All Nip Trick or Treat Bag
MAX All Nip Crinkle Witch Hat
KitNipBox Review
I brought the Meowlloween KitNipBox home for my two feline helpers, Abigail and Monty. As soon as I walked through the door, I knew exactly how the evening would play out. Both cats jumped on me because they could smell the catnip through the cardboard box that was inside of my leather bag.
Abigail and Monty were incessantly pawing at the KitNipBox, so I decided to open it immediately for them to investigate.
Needless to say, the cats dug into the toys containing catnip right away. I soon found myself dealing with two (generally lazy) cats zooming around the living room, flinging toys every which way.
Although they both took turns with every toy in the box, Monty paid the most attention to the Safemade All Nip Trick or Treat Bag while Abigail favored the 'R Squad Ghostly Boos Crinkle Kicker.
The Paws 'N Purrs Bats for Cats Wand was the only non-catnip toy in our Meowlloween KitNipBox, and it might be my favorite toy in the package. I have plenty of wands for my cats, but this one is super well-made. The bat is held on by a sturdy cord, not a flimsy string. My little hunters play rough, so having a toy that can last is important.
Our KitNipBox included a bag of PureBites treats, a healthy feline snack that contains just one ingredient! PureBites Chicken Breast Treats are 100% USA sourced and contain human-grade chicken breast, so I give them the pet parent seal of approval.
And neither cat put up a fight about taste-testing them, so they're kitty-approved as well!
What Makes KitNipBox Special
I've been on the hunt for a good cat subscription box and from my own experience, there are a few things that make KitNipBox special.
Multi-cat Box: KitNipBox offers a single or multi-cat subscription. Not many pet subscription boxes offer multi-pet customization, so this was a big sell for me and my two kitties.
Value: The cost of a KitNipBox is just $19.99 per month or $29.99 per month for the Multi-Cat KitNipBox, both with free shipping. The cost is definitely in line with other cat subscription boxes and you get a nice assortment of toys for the price.
Charity Donation: KitNipBox donates a portion of their proceeds to notable charities, such as the Stray Animal Adoption Program (SAAP) and The Paw Project, a charity that educates the public about the painful and crippling effects of feline declawing.
It's nice to hear about brands working hard for pets and their humans, but it's especially heartwarming when those brands also give back to charity.
The Final Results + a KitNipBox Discount!
My lazy cats went into hyperactive mode after playing with the contents of the KitNipBox. While they were overjoyed with the assortment of catnip toys, I wish we had received a few "regular" toys — for my own sanity. Overall, Abigail and Monty give the KitNipBox 4.5 out of 5 paws!
KitNipBox was kind enough to offer the Prudent Pet Fam a discount! Save 15% off your first box with code PRUDENTPET.
Tag us on Instagram and show us your cat's new toys!